Do you have kids that love dragons? Are you studying dragons in your homeschool? These Rice Krispies Dragon Feet are the perfect treat.
Create them while your kids are doing school for a fun snack that will make learning about dragons even more fun.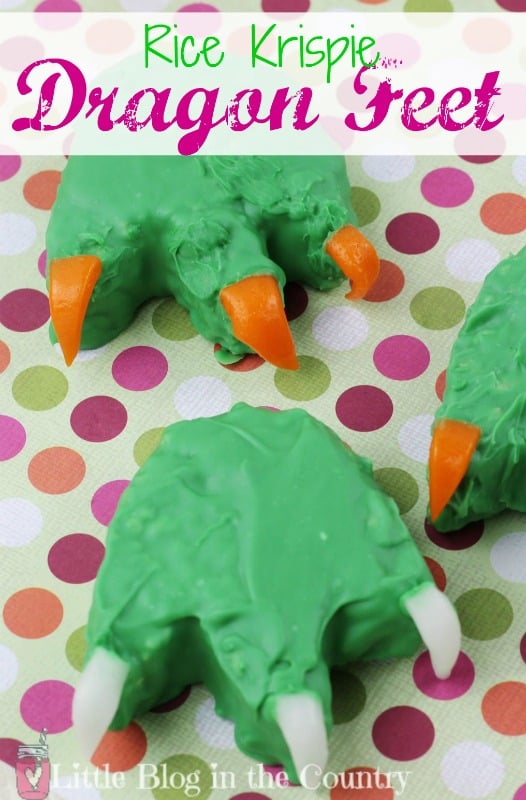 I have some simple easy to follow directions for you here. This is a great cooking project to do with the kids or to surprise them!
SUPPLIES NEEDED:
Oval or Easter egg cookie cutter
Heart-shaped cookie cutter
9×13 pan of prepared Rice Krispies (recipe below)
1 Tablespoon solid shortening
1 cup Wilton dark green candy melts
2 large white Airhead candies
2 large orange Airhead candies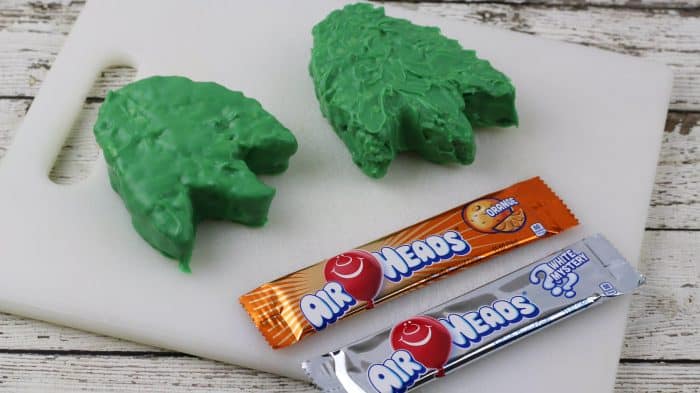 RECIPE FOR THE RICE KRISPIES:
1 cup (2 sticks) butter
Two 10 oz. bags of marshmallows
10 cups Rice Krispies cereal
DIRECTIONS FOR THE RICE KRISPIES
1. Spray a 9×13 pan with a non-stick coating spray and set aside.
2. In a large pan, melt the butter over low heat.
3. Add the marshmallows and stir constantly until melted.
4. Remove from heat and stir in the cereal until evenly coated.
5. Transfer the cereal mixture to your prepared pan and press down firmly to even out.
6. Cool for 30 minutes.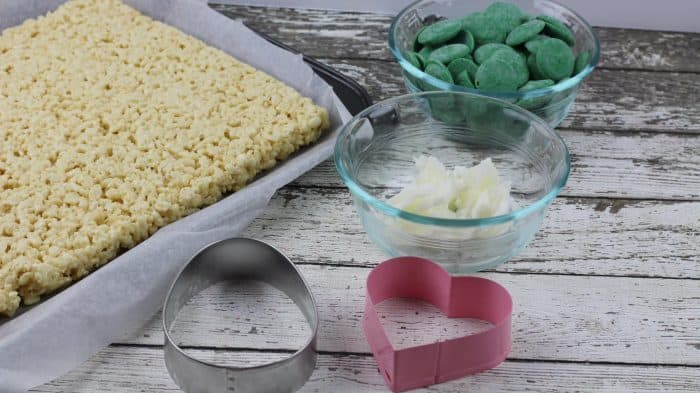 HOW TO MAKE RICE KRISPIES DRAGON FEET
1. Line a large cookie sheet with wax paper and set aside.
2. Using the oval cookie cutter, cut out 8 oval shapes from your prepared Rice Krispies. Try to cut them out as close together as possible. Place on the cookie sheet.
3. To make the dragon toes, take the bottom right side of the heart cookie cutter and place it into the upper left side of the foot (see picture).
Next, place the bottom left side of the heart cookie cutter and place it into the upper right side of the foot (see picture). This might take some practice but I got the hang of it after the first one.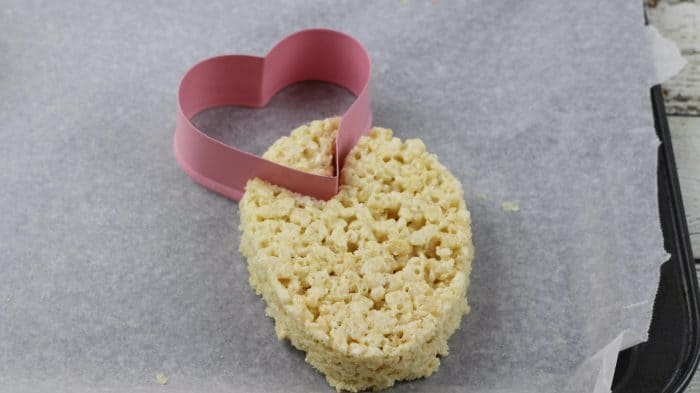 4. In a microwave-safe bowl, microwave the solid shortening for 45 seconds. Add the green chocolate candy melts and stir until completely melted and smooth. (Depending on the wattage of your microwave, you may have to heat in 10 second additional increments).
5. Coat each dragon foot with the melted chocolate. I just dipped each bottom into the melted chocolate and then used a spoon to cover the top.
Place back on the cookie sheet for 30 minutes to allow the chocolate to harden. Set aside any remaining melted chocolate for step 9.
6. To make the dragon talons (claws), cut each Airhead candy piece into 4 long triangles (see picture).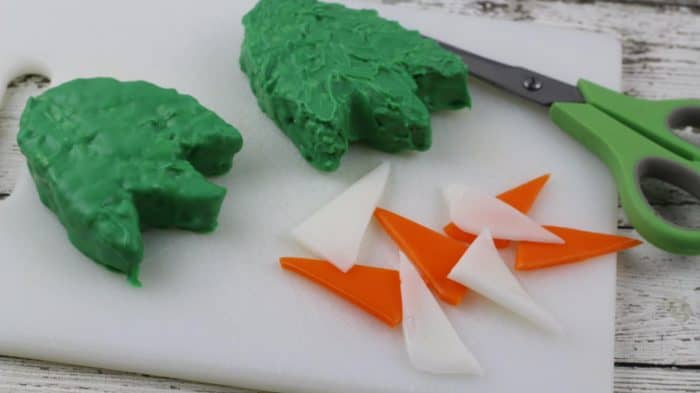 7. Roll each triangle lengthwise and cut to your desired length. With your fingers, make a curve at the end of each talon.
9. Re-microwave the remaining melted green chocolate until it is smooth.
10. Dip the non-pointy end of each talon into the melted chocolate and gently place on each dragon toe. Hold in place for 10 seconds and place back on the cookie sheet. Allow to harden for an additional 20 minutes.
11. ENJOY!
This recipe will yield 8 Rice Krispies dragon feet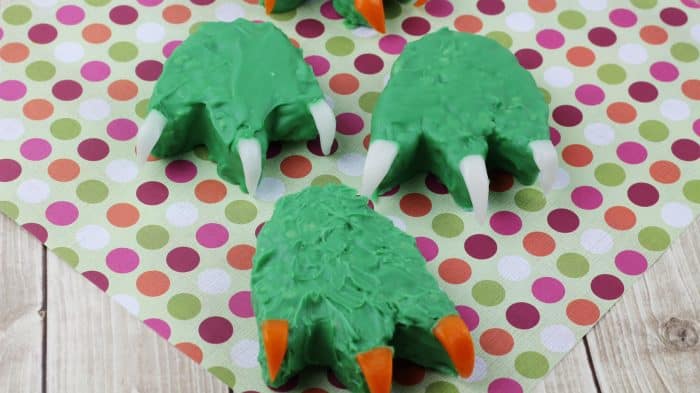 Be sure to check out our Pete's Dragon Canvas Painting Tutorial to go with your Rice Krispies Dragon Feet.