If you are making our Felt Snowman Craft for kids then this Snowman Bark will be the perfect snack to go with it and will be really fun to make. Gather your supplies and get ready to have a day of snowman fun.
Related- Nutter Butter Snowman Cookies


Snowman Bark
Ingredients for Snowman Bark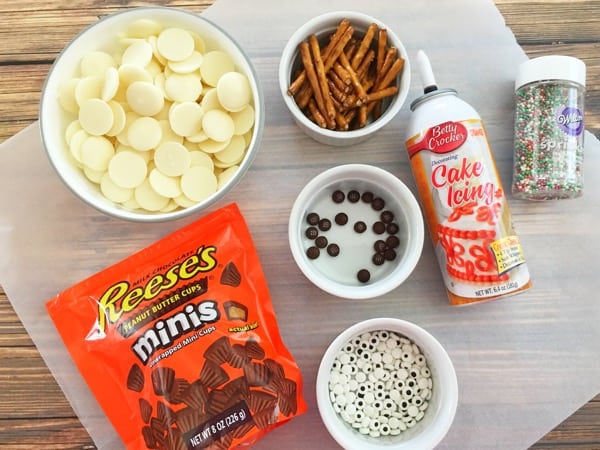 1 Bag Ghirardelli white chocolate wafers
Brown miniature M&Ms
Small pretzel sticks
Small candy eyes
Christmas pearlized nonpareil sprinkles
Miniature Reese's peanut butter cups

You will also need
Parchment paper
Baking sheet
Spatula
Microwave safe bowl
Spoon
Directions
1. Microwave your chocolate wafers in your microwave safe bowl for 3-4 minutes on 50% power, stirring every 30 seconds until melted
2. Line a baking sheet with parchment paper
3. Pour your melted white chocolate into the center of your pan and spread out evenly with your spatula
4. Cut your Reese's in half and randomly place them around your melted chocolate for the hats

5. Place your candy eyes under the Reese's and two brown M&Ms under your candy eyes for the buttons (leave a tiny amount of space for the noses)
6. Then break your pretzels in half and place th on the sides of your snowmen for arms

7. Top your melted chocolate off with sprinkles
8. Place your baking sheet in the freezer for about 15-20 minutes until your chocolate is hardened
9. Now use your orange frosting to draw carrot noses under all the eyes

10. Once your chocolate is hardened you can begin breaking it into snowmen pieces, making sure your snowmen are in different full pieces

Once your snowman bark is ready you may have a hard time eating them because of all the cute going on. I don't think the kids will have much trouble in the eating department though.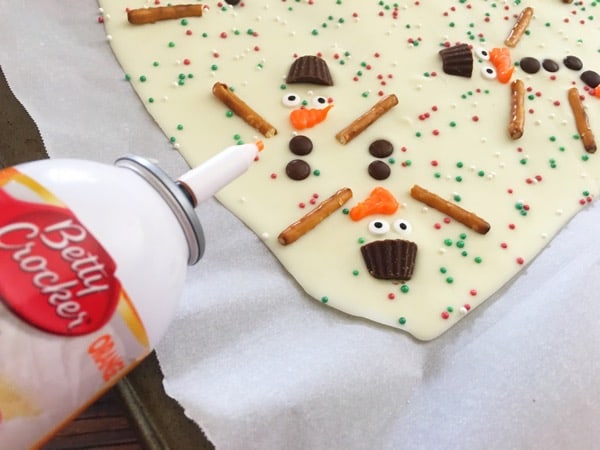 Related- Build a Snowman Sensory Play Activity