If you like book based activities you are going to love There Was an Old Lady Who Swallowed a Shell Unit Study. Books open up to so many fun and educational ideas – you can use them as the basis for math, art, and much more.
Related- If You Give a Pig a Pancake Unit Study

There Was an Old Lady Who Swallowed a Shell Unit Study
Story Basket- Create a story basket and use it in several ways-for playing with as you read aloud, for your child to recreate the story with, or just for creative imaginative play. To make a story basket all you need to do is find items from the story like- a shell, a bucket, a fish, a crab, etc… borrow props from your child's toy box to use! Put all the items in a basket with the book, creating an invitation to play, they won't be able to resist.
Sensory Bin- Similar to a story basket in that you can use the same props, but with a sensory bin you can add some additional sensory opportunities. Layer 1"-2" of sand in a waterproof tub, add some water if you like or a couple handfuls of blue glass beads (Dollar Tree). Let your child recreate the story and use their imagination to create new ones.
Related- Drumheller Dinosaur Dance Unit Study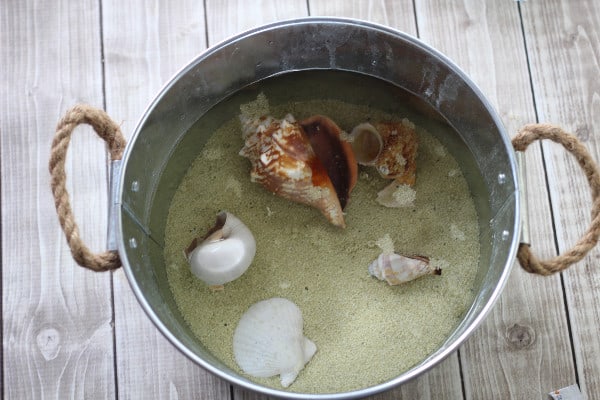 Sea Shells- If you want to turn reading "There was an Old Lady Who Swallowed a Shell" into an even more enriching educational activity you can add in some math by using sea shells. If you have none on hand you can get a great assorted bag at Dollar Tree. What can you do with seashells? There are many great activities they can be used for
Sorting-by size, color, shape,etc..
One to one correspondence counting
Addition/subtraction
Skip counting
Matching
Write numbers on them with a sharpie and have them practice putting them in order or identifying the numbers.
Beach Pudding Cup Snack Check out this quick and adorable snack Beach Themed Pudding Cup Snack that the kids can help you make, it is a fun addition to this little study.
Sandcastle art- Give your child a bottle of school glue with the directions to "draw" a sand castle with the tip, they will want to lay on a pretty thick line. Immediately sprinkle sand on glue, tap off excess and allow to dry. You can add stickers or draw additional details on with markers and crayons.
Related- The Kissing Hand Unit Study

Painted Shells- Give your child an assortment of shells, paint, paintbrushes and let them get creative with painting the shells. Add google eyes to turn them into different creatures.
Get creative with your book and use it as a springboard for lots of fun summer activities!
There Was an Old Lady Who Swallowed a Shell Unit Study offers many ways to make learning fun. Add even more by selecting text and having your child copy it.